Object Lesson I
The museum collection at Bethlem Royal Hospital contains many small artefacts linked to the everyday life of the Hospital over the years. Sometimes even the smallest and seemingly insignificant of these can leading to an unexpected back-story. Such was the case when I began looking into a Sacker hygienic (lice or nit) comb prior to its use in the new expanded museum display.

The comb was made in the 1940s or 1950s by a company founded by one John Sacker and I found myself looking into the history of this man whose simple comb revolutionised the treatment of head lice, an ever prevalent problem in institutions such as hospitals and schools.

John Sacker was born Josel Tzecher to a Jewish family in Russia in 1873. It is not certain exactly when he moved to England, but from the public records it seems most likely that this was in the period between 1903 and 1906. This would correspond to one of the peaks of Russian Jewish migration to the West caused by the anti-Semitic pogrom that was being carried out in Russia during these years.

Our first record of John Sacker, as he now called himself is in 1907 when he is recorded as marrying Dorothy Sorin, another Russian immigrant, at Mile End Old Town during the early part of that year. In the 1911 census John and Dorothy are shown to be living in Clerkenwell with their two young children. The census also records John's occupation as that of hairdresser. Sometime between this date and 1920, the family moved to Finsbury Park and John went into business with one Morris Cousin, a local butcher. They set up a company by the name of Sacker's hygienic comb and toilet supply company at an address in Highbury. In 1921 Sacker registered an application for a patent on a hygienic comb, both in the US and in the UK. This original patent states that comb was for the purpose of removing nits for the hair of people and animals. Until this time these nit combs had been made of flexible materials such as wood or bone which had the disadvantage that the teeth were flexible and able to yield and thus allow nits attached to the hairs to pass between them. Sacker states in the patent application that the difference with his comb is that it is the first be made of a non-flexible material, in this case metal, and that this lack of flexibility would ensure that only hair would be able to pass through and nits and eggs would be separated from the hair. Both of these patterns were granted in 1922.

It is unclear exactly what happened within the company, but the London Gazette of February 1923 records that the partnership between Sacker and Cousin had been dissolved by mutual consent. However over the following years the Sacker comb became widely used in public health circles. This can be witnessed by an entry in the report of the medical officer of health for Kensington Borough in 1943, which states 'a supply of Sacker's hygienic combs were purchased and kept for resale at cost price to mothers who found difficulty in obtaining them. In addition, hygienic combs were lent to mothers who were unable to afford to purchase them'.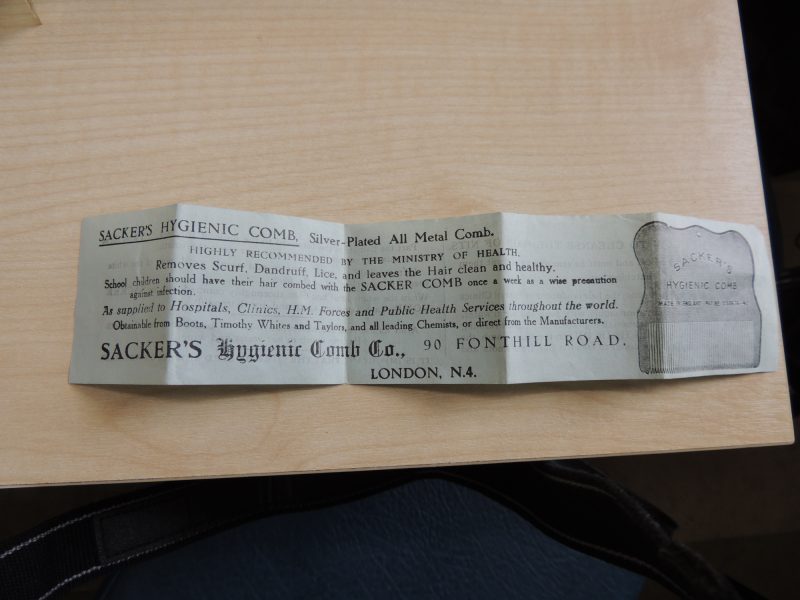 In February 1936. Sacker applied for and was granted British citizenship. In 1942 he applied for a second patent detailing improvements to the design of the comb teeth to give a greater efficiency of nit removal from the hair. This patent was granted the following year.

John Sacker died aged 75 on 3 July 1948 at Hackney Hospital. He left an estate of just over £2000 (equivalent to £75,000 today). After this time it has been quite difficult to trace the history of the company. It seems that they continued to make and sell hygienic combs through the 50s and into the 60s, but thereafter there is little mention of record of the company. In 1965 a rival metal comb product was introduced 'The Derbec hygienic comb' and this may have affected sales. It is also possible that the advent of synthetic polymers and plastics, which began to be used in the late 1960s to manufacture nit combs rendered the engineered metal combs produced by Sacker to be redundant. Also, the 1960s saw the increased use of insecticidal shampoos and lotions in the treatment of head lice. Sacker's hygienic comb company was eventually dissolved for non-submission of accounts in November 1983. It is interesting to note that Sacker's original patent of 1920 has been referenced by 28 further patent's since 1985, so is still regarded in patent law as the foundation of effective treatment of head lice.