Change Minds Online: Thomas Herbert Stringer by Teresa Patti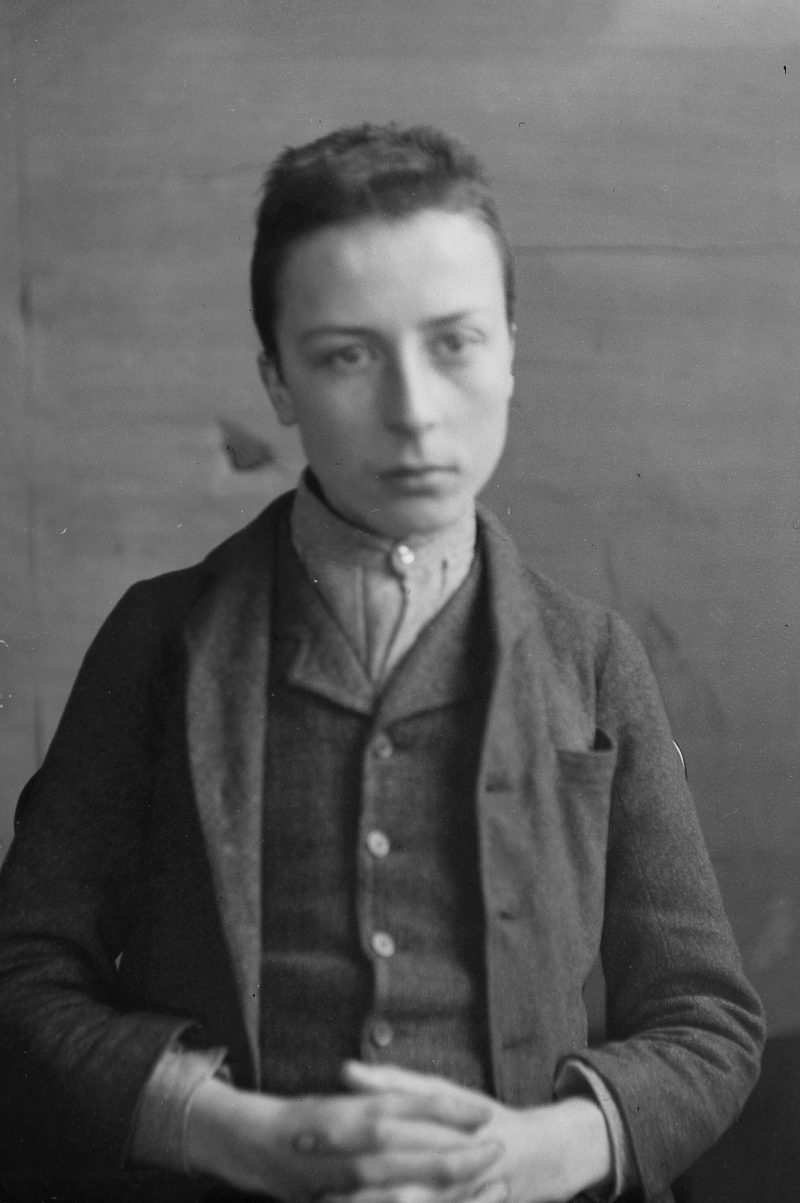 THOMAS HERBERT STRINGER was born in 1868 in Walworth, London. He was the second son of William Romaine Stringer and Elizabeth Magdalene Stringer nee Sutton, a middle child in their family of ten offspring (two died in infancy). William Stringer was a clerk by profession and the family was comfortable financially, always able to keep a servant or two. The 1871 census records the Stringers living in Hatcham, Deptford, in a neighbourhood populated by clerks, schoolmistresses, accountants, and artists/photographers. By 1881, they had moved on, neither up nor down socially, to Camberwell.
Very little is known about Thomas's childhood. He was an infant at the time of the 1871 census; ten years later the census enumerator recorded him as "Scholar." There are no records showing which school Thomas attended but we do know from his admission record to the Bethlem that he went to a board school.
On 17th March 1887, Thomas's paternal first cousin, Alice Mary Stringer (1867-1913) deliberately fell downstairs in an attempt to end her life and when that failed she tried to throw herself onto the flames in the fireplace – her avowed wish was to die because God had cursed her. Alice was an ailing young woman, nervous and excitable, with a right lateral curvature of the spine. For more than three years she had behaved in a strange and eccentric manner and her efforts to kill herself on that Thursday the 17th were not her first. On 19th March 1887 she was brought to the Royal Bethlem Hospital by her father and admitted, suffering from acute religious mania with violence.
Thomas was a short, badly developed youth with a narrow chest and very sloping shoulders; he had no facial hair and a childish, peculiar manner of speech (similar to his father's). He was much teased by the people with whom he used to work, and he firmly believed that children were following him to annoy him. At some point, this developed into delusions about trains pursuing him and of rats running about his bedroom; he would lock himself away for hours in the water-closet. He insisted that everything he ate "tasted funny, as though something was in it." Eventually, his father brought him to the Royal Bethlem Hospital and Thomas was admitted on 19th December 1887, suffering from melancholia with delusions. A note on his file records that a cousin was also afflicted; by this time, though, Alice had been discharged "Uncured" from the Royal Bethlem (29th September 1887) and was soon to be admitted to Camberwell House and then the London County Asylum at Bexley (where she died in 1913).
Thomas was a patient at the Royal Bethlem for five months and was discharged "Relieved" on 12th May 1888, after spending a short time at the convalescent home at Witley, Hampshire. His hospital records consistently tell of his childish behaviour, which did not change or improve during his time there. His homecoming was marred by the death of his younger sister, Edith, in the spring of 1888.
On 20th December 1889, Thomas entered the Havil Street Workhouse, in Camberwell. His condition seems to have worsened since leaving the Royal Bethlem as a Mr Rolfe admitted him as "Supposed Insane." On the 21st December 1889 Thomas was discharged to the recently opened Cane Hill Asylum at Coulsdon. He left Cane Hill on 24th December 1890, allegedly "Recovered."
At the time of the 1891 census, 5th April 1891, Thomas was visiting a Mr Amos Driver and the Driver family. It is unknown how the Drivers are connected to the Stringers, if at all, or why Thomas was staying at their house in Langley, near Saffron Walden, some fifty miles away from his home. It may have been a prolonged visit as, on 1st December 1891, he was admitted to the Brentwood Asylum, Essex. Thomas remained a patient at Brentwood for nearly two years, until he was returned to the Havil Street workhouse on 31st August 1893. Two days later, he left the workhouse at his own request.
Thomas's father died on 21st September 1895. He was 60 years old. Changes had to be made to support the family he had left behind. The 1901 census shows that there were no longer any live-in servants in the house, and that three of Thomas's sisters worked from home as schoolmistresses; two other sisters, whilst still living at home, worked as a pupil teacher and a draper's assistant; Thomas had acquired a job as a porter/messenger. Their mother died in the April of 1902 but Thomas and his sisters continued to live at the family home in Dulwich, still running a private school on the premises, and the 1911 census records that Thomas was still employed as a porter. Electoral records show that Thomas lived with his sisters, occupying one furnished room on the first floor of the family home, until 1918, but in that year the sisters moved from Dulwich back to Camberwell, without Thomas. The next recorded residence of Thomas is in 1922, living at the Mildmay Mission Hospital in Stepney as a member of staff, presumably as a porter. He was still living at the Mildmay Mission in 1927 but, in 1928, he died in Chichester at the age of 60. Without procuring a death certificate, it is not known why he was in Chichester but it is possible that he had been placed in a care home or hospital.
Addendum: it is interesting to note that of the seven of Thomas's siblings that survived infancy, only his brother Arthur married and then produced only one child. In the family of his cousin Alice, neither she nor any of her seven siblings married. In 1910, her sister Priscilla committed suicide, torn between her beloved job as a midwife and a commitment to her recent conversion to Christian Science.
To see more on Change Minds Online you can find more blog entries here or you can see the exhibition of all our participants' creative work via our page here .