York Retreat (1796 -)
Location: York, England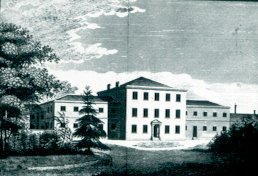 The Retreat, near York in northern England, was opened in 1796 as a 'retired habitation' for insane members of the Society of Friends (Quakers). It was organised on what were considered to be humane and enlightened principles. Its mild regime was in sharp contrast to treatment elsewhere, and in time its "moral treatment" of patients was adopted widely throughout England, beginning in the late 1830s at Hanwell Asylum.
The Retreat was founded by William Tuke, and he and his son Henry and grandson Samuel were all deeply involved in its management. They employed lay superintendents before the
mid-nineteenth century, but thereafter medical men had a central role. By that date, the Retreat was also caring for many non-Quaker patients.
Daniel Hack Tuke, the youngest son of Samuel, spent his formative years at the Retreat before qualifying in medicine and embarking on the first of his many European journeys. Returning with an MD from the University of Heidelberg, Tuke completed a brief stint as the Retreat's visiting physician, before moving to southern England for health reasons.